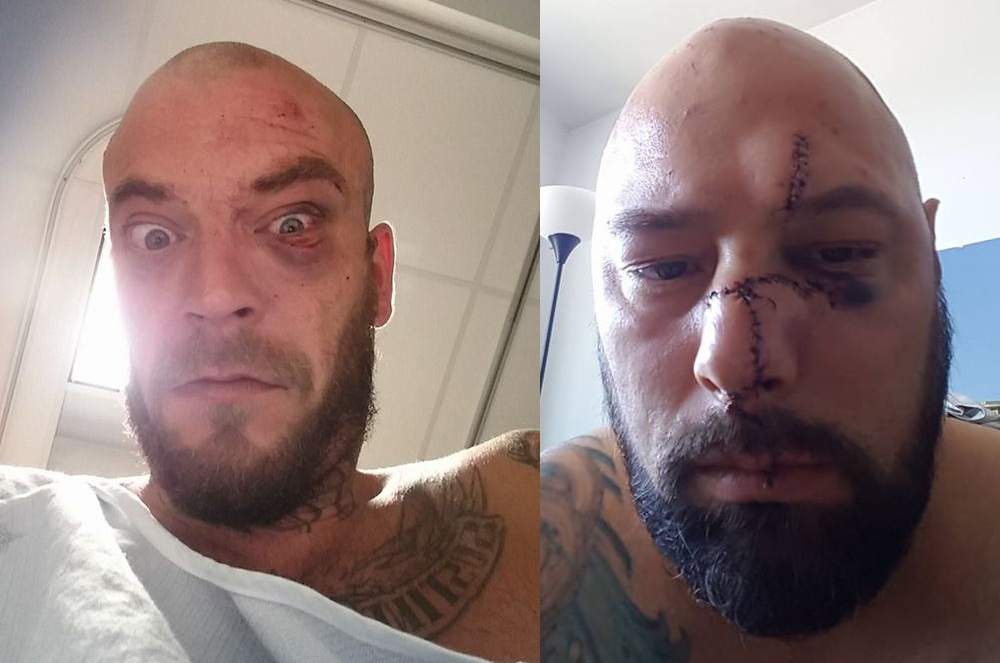 Anonymous submission to MTL Counter-info
Last week, a new racist group tried to publicly organize for the first time. Their name is Wolves of Odin1, not to be confused with Soldiers of Odin. They organized a small BBQ in a park in the west of the city. After eating and drinking, they decided to go watch the highly-anticipated boxing match.
Anti-fascists recognized them and came in large numbers to confront them. They then came outside to try to explain how they aren't racist. Within five seconds, a beer bottle was shattered on one of their heads, and the others were taken care of. One of them ended up being stomped on the ground. Let's say that they were bruised and bloodied, with three of them seriously hospitalized.
Even though these groups are still small, we want to completely prevent them from growing quickly. We await each of their initiatives with a capacity to strike.
Watch your backs fascists.
Editor's note: From the Wolves of Odin facebook page – "FOUNDED IN THE WINTER OF 2016, WE ARE AN ORGANIZATION DEDICATED TO THE DEFENSE OF OUR CITIZENS AND WAY OF LIFE. ORIGINALLY ESTABLISHED AS A LOCAL GROUP OF CONCERNED CITIZENS HERE IN MONTREAL, OUR MEMBERSHIP HAS GROWN INTERNATIONALLY, WITH REQUESTS FOR SATELLITE GROUPS OUTSIDE CANADA. THE W.O.O. WAS ORIGINALLY FOUNDED IN RESPONSE TO THE GROWING IMMIGRATION CRISIS THAT IS BURNING OUT OF CONTROL IN MANY PARTS OF EUROPE. WE HERE AT W.O.O. UNDERSTAND THAT IN THE BEGINNING, IT WAS SEEN AS A NECESSITY TO AID OUR FELLOW HUMAN BEINGS THAT HAVE FLED THEIR WAR TORN COUNTRIES. MANY WERE WELCOMED AND PROVIDED FOR, YET MANY HAVE FORCED THEIR WAY IN UNDER THE GUISE OF REFUGEE STATUS, AND MANY MORE HAVE OVERWELMED THE UNDERSTAFFED BORDER CROSSINGS IN MANY COUNTRIES. CRIME RATES HAVE SKYROCKETED UNDER WAVES OF FOREIGN IMMIGRATION, AND THE FACE OF EUROPE HAS BEEN TRANSFORMED FOREVER. IN MANY PLACES OF EUROPE, IT HAS BECOME EXTREMELY UNSAFE FOR THE LOCAL, ORIGINAL INHABITANTS. REPORTS OF THEFTS, ASSAULTS, VANDALISM, RAPE, AND CHILD ABUSE, HAVE BEEN ACREDITED TO IMMIGRATION, IN WHAT WERE ONCE PEACEFUL COMMUNITIES, ATTEMPTING TO DO THEIR PART TO ALEVIATE HUMAN SUFFERING. WE REMAIN STEADFAST IN OUR BELIEF THAT THERE ARE MANY LEGITIMATE REFUGEES FLEEING THE ATROCITIES THAT THEY HAVE FACED IN THEIR OWN COUNTRIES, YET WITH THESE LEGITIMATE REFUGEES, COME MANY THAT WISH TO IMPOSE THEIR LAWS AND IDEOLOGY UPON US  AS CANADIANS, AND OTHER CITIZENS OF GREAT COUNTRIES FROM AROUND THE WORLD. WE HAVE OUR OWN LAWS AND SOCIETIES. WE ARE PROUD OF OUR OWN RICH AND NOBLE HISTORIES. OUR ANCESTORS FOUGHT FOR OUR WAY OF LIFE, AND MANY GAVE THEIR LIVES SO THAT WE MAY LIVE FREE, SO THAT OUR FAMILIES AND FUTURE GENERATIONS MAY LIVE FREE.  BY REFUSING TO YIELD, WE ARE ANSWERING THE CALL TO HELP KEEP THE LIGHT OF THE WEST BURNING BRIGHTLY. WE ARE THE WOLVES OF ODIN, AND WE WILL HOLD THE LINE" ↩